Join us on the New AMA Waterways 
            AMALea  November 27, 2019
Exclusive FULL SHIP CHARTER
9 Nights from only $2699pp
Travel back through centuries as you walk along cobblestone streets through grand cities and historic towns bedecked with twinkling Christmas trees and lined with wooden huts gleaming with handcrafted treasures. Iconic Christmas Market square plentiful and are on full display for your pleasure: Budapest's Vorosmarty Square, where all products sold in the market are guaranteed as traditionally handmade; Vienna with its impressive Christmas Markets that seem to majestically appear around every corner; Nuremberg's festive Christ kindles market, the largest and oldest Christmas Market in Germany; and Regensburg's Christmas Market at Thurn and Taxis Castle, considered one of Bavaria's most beautiful and romantic-along with many others throughout your journey-are yours to explore. Sparkling lights; the festive sounds of children dressed as angels singing carols; enticing smells of hot-mulled wine, roasted chestnuts, sausages and sweet treats of every kind; and timeless wonders are a feast for all your senses.
COUNTRIES: Austria, Germany, Hungary,Slovakia, Czech Republic
DETAILED ITINERARY
Limited availability! 
BOOK NOW & SAIL WITH US!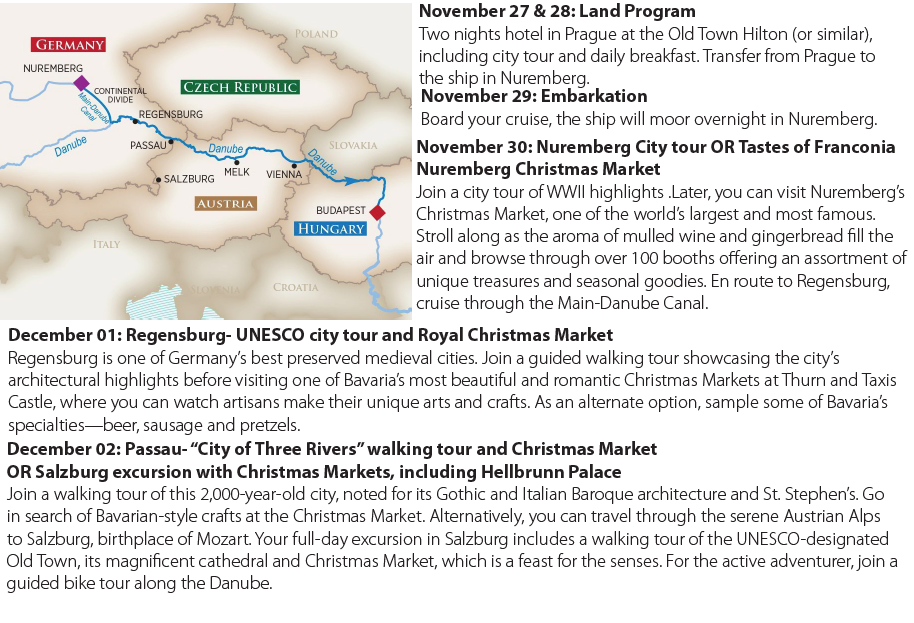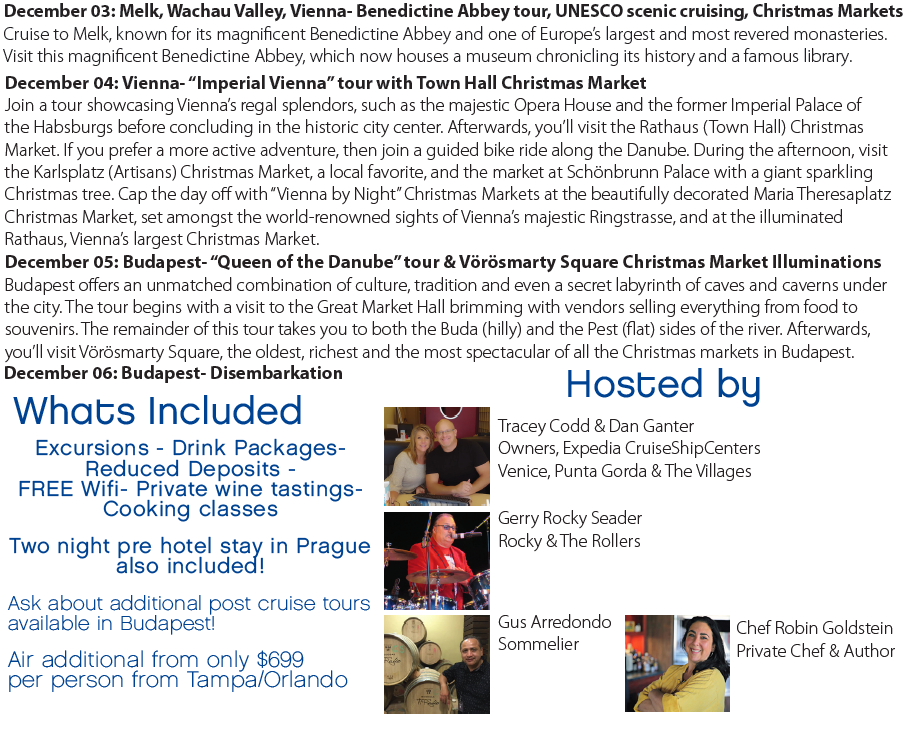 Additional Special Guests Hosts:
Gerry "Rocky" Seader
Born in Philadelphia, Rocky started playing drums at the early age of 10.  By age 13 he was playing big band music from the 1940's in his grandfather Chet DeLorenzo's band.  Rocky say's "Everything that I know in music today I owe to my Grandfather.  He was the BEST!"  At age 16, Rocky started playing Rock & Roll with various bands in the Philadelphia-South Jersey club circuit.  That is where he met DANNY & THE JUNIORS  of  "At The Hop" fame." His powerful drumming impressed  DANNY & THE JUNIORS and earned him a spot as their drummer and later becoming their musical director.  Rocky spent 10 years on the road with DANNY & THE JUNIORS and learned most of what he knows today from that experience.  "That was some of the BEST times of my life, Rocky says'.  Joe Terry and Frank Maffie really showed me the ropes."  They remain long time friends and still work together on occasion.
Rocky also got to play for all the recording artists from the 50's and 60's rock and roll era when they toured.  Rocky say's "If they had a record in the 1950's or 1960's I probably played drums for them at one point or another."
In the early 1980's Rocky decided to start his own group.  He was in such demand by promoters and acts in the business that he had to break away from DANNY & THE JUNIORS and go out on his own.  That is where Rocky & The Rollers began.   The early 1980's also introduced Rocky to JON "BOWZER" BAUMAN of SHA NA NA fame, and the two have become life long friends.  Rocky is the drummer and musical director for BOWZER'S ROCK & ROLL PARTY and the band tours with BOWZER nationally and internationally throughout the year.
Because of his powerful and highly energetic drumming style Rocky has become one of the most sought after drummers in the business today.  Rocky also runs a successful production company "ROCKY ENTERTAINMENT, Inc." that produces shows all over the world.
Along side his love of music, is his love of wines, cooking and traveling.
Chef Robin Goldstein
"I love entertaining," says Chef Robin. "As a cook, my work and life can never be separated."
A California chef whose memorable meals range from lively brunches
and casual cocktail parties to intimate private dinners and celebratory events, Robin Goldstein provides home-cooked experiences with unique flavors and contemporary style.
Her early exposure to fine dining at her grandparents' restaurant along with her food-loving family sparked her lifelong passion for cooking.A Washington, D.C. native, she grew up dining at the city's most prominent restaurants and went on to study classic techniques at the acclaimed Culinary Institute of America in New York. Chef Robin moved to California in 1984 and pursued a career as a professional chef while owning a full-service catering and event-planning business. Through her travels and later living abroad for a number of years, she has developed and fine-tuned her California-Mediterranean cooking style, with an emphasis on spice and flavor.
The author of three cookbooks celebrating fresh, seasonal California-Mediterranean cuisine, and the creator of her signature line of salts and spice blends, Robin is also in demand as a food stylist, cooking instructor, and commentator for print and visual media.
Robin lives in an oak-shaded neighborhood in the Ojai Valley, surrounded by nature and the scenic beauty of the local mountains that Ojai is famous for.
Gus Arredondo
My interest in wine stared during one of my visits to the Napa Valley, where I was introduced to the hard work, passion and dedication that go in to making wine. I really learned to appreciate the painstaking processes from choosing the right soil, the management of the vineyard, and the dedication of the people collaborating in the winemaking.
 I developed a higher respect for people involved in the wine industry. This lead me to pursue a more wide knowledge in wine and I enrolled in the sommelier introductory level course offered by The Court of Master Sommeliers. After passing their level one exam, I continue to educate myself with books, publications and study groups. In 2013, I had the opportunity to take and pass the Certified Sommelier exam.
As Director Food & Beverage at Heron Creek Country Club my role includes the purchase and selection of wines and spirits served in 2 different outlets. Previous at Bonita Bay Club where for 8 Years serve as a Senior Food and Beverage Manager and Wine Director.
Interesting Shopping
Doing your Christmas shopping in the European markets visited on a river cruise almost guarantees that the gifts you put under the tree when you return home will be unique.Think wooden toys, hand-blown glass, scarves, hats and leather goods. There are specialty teas, honey, wine and liqueurs. A vast array of ornaments awaits you,made of wood, paper, lace and glass.
The real secret to market shopping is pacing yourself. On an average seven- or eight-day cruise,you may visit as many as 10 different Christmas markets, and although there is some duplication of the goods from market to market, you will find items that are special to that city or town at each one.
Some market stalls will have English-speaking attendants, others will not, but prices in euros are usually clearly marked. Cash is the easiest way to shop in the markets themselves, but some stalls may also accept credit cards, particularly for larger items.
Decorations and Ambiance
There's no shortage of festive decor onboard the ships themselves, but the real treats are the markets and their settings. From the red-and-white canopies of the market in Nuremberg,set in the medieval city center, to stalls in Regensburg's Thurn and Taxis market topped with pine branches in front of a towering palace, each market has a unique decorating style.
The aromas of the season drift through the markets in the form of fire pits and barrels burning for warmth, gingerbread baking and chestnuts roasting.
Most cruises afford you the opportunity to visit at least a few markets after dark to enjoy the lights that decorate stalls and the squares and parks where the markets take place. Cities and towns in Europe also adorn public buildings and plazas with wreaths, bows and lights.
Snow You Don't Have to Shovel
There's certainly no guarantee that there will be snow during your cruise but if the white fluff falls, the best news is that you can sit back and enjoy it without all the work that comes with it.
Weather in Germany,where the bulk of the Christmas market cruises take place, is relatively mild during December. Daily highs average in the mid-30s. Precipitation, averaging only 2 or 3 inches along both the Danube and the Rhine, is as likely to be in the form of rain as it is snow. Make sure you plan your outerwear accordingly.
Mulled Wine
Hot spiced wine is a staple of Christmas markets throughout Europe, known by the German name of gluhwein or the Swedish glogg. Even serious oenophiles find joy in wandering through street vendors sipping steaming cheap wine from kitschy souvenir mugs. Each vendor uses their own recipe, but expects some version of red wine, lightly spiced with cinnamon, cloves and oranges heated to around 170 degrees.
Most sellers also offer wine with a little more kick to it in the form of add-ins like brandy, amaretto,Grand Marnier or vodka. And, of course, there is a nonalcoholic version known as punch or kinderpunsch.
In most markets, you pay for the wine and a deposit on the mug, which is then refunded upon return if you don't care to have the souvenir. Refills are then available for purchase at subsequent stalls as you wind your way through the market.
Sweet and Savory Treats
Sweets range from simple chocolate-dipped dried fruit on skewers to elaborate pastries. Waffles topped with fruit or Nutella are favorite eat-on-site market foods. In Germany, fried apples, doughnuts and, of course, strudel is abundant. Here's a quick dictionary of sweets by their common market names:
·        Schmalzkuchen: vanilla- or lemon-flavored balls of fried dough, rolled in sugar
·        Lebkuchen: gingerbread cookies, often heart-shaped and coated in chocolate or sugar icing
·        Maroni: sweet, roasted chestnuts
·        HeibeSchokolade:Hot chocolate, for those not interested in mulled wine
·        Pfannkuchen: crepes, often filled with cream,Nutella or fruit
Sausages top the list of savory treats at the markets. Fat or thin, fried or flame-grilled, sausages are normally served in fresh, crusty rolls, topped with optional sauerkraut and mustard. Recipes vary from region to region, so trying one at each stop of your cruise is perfectly acceptable.
Also look for potato pancakes called kartoffelpfannkuchen and potato dumplings, kartoffelknodel.
Christmas Culture
Aficionados of European culture can delight in the traditions and celebrations of the holiday season.Church and family play huge roles in those celebrations, as does food.Christmas market cruises are an ideal way to immerse yourself in the cultures you visit, even beyond the markets. A ship's tours include plenty of stops at cathedrals and abbeys. Onboard entertainment usually includes local singers and musicians brought on in ports of call, most of them performing Christmas music.
European crew members are also eager to share their own holiday traditions with guests, including games, music and visits from Saint Nicholas. And, tour guides in every city impart the details of how their city and its inhabitants celebrate.
Scenery
River cruises are never short on scenery along the banks of the rivers they sail, but there is something seasonally romantic about the winter landscapes, often dusted by snow,as you sip coffee or hot chocolate in a festive lounge full of fellow cruisers.With fewer outdoor activities available to passengers on these winter cruises,the itineraries often include a bit more daytime cruising between ports.
Less Crowded Sites
While the Christmas market cruise season is fairly busy, it is a far quieter season than summer.That means smaller crowds almost everywhere you go other than the markets.Sightseeing is easier, and lines are shorter at museums, theaters, galleries and other non-shopping areas.
Highlights Included in your package:
Wine Tastings, Craft Beers, Excursions, Transfers, 7 night cruise plus 2 night hotel stay in Prague, cooking demonstrations, beverage package & so much more!
SPACIOUS STATEROOMS
· 7 night's luxury accommodation in an outside stateroom (most with twin balconies)
· Computer for internet access
· Entertainment-On-Demand in all staterooms featuring free high-speed internet access, movies, a music library and English language TV stations
· Mini-fridge,desk and sitting area
· Bottled water replenished daily
AN ARRAY OF AMENITIES
· Personalized service from a highly trained Cruise Manager during both cruise and land programs
· Internet and Wi-Fi access
· Sundeck pool with swim-up bar and walking track
· Fitness room, massage services and hair salon
· Main Lounge with panoramic views and bar
· Daily entertainment including cultural performances
AWARD-WINNING DINING
· All on board dining in a variety of venues
· Regionally inspired cuisine made with locally sourced ingredients
· The Chef's Table specialty restaurant
· Welcome Cocktail, Welcome Dinner, La ChaÃne des Rôtisseurs Dinner, Captain's Cocktail and Gala Dinner
· LaChaÃne des Rôtisseurs exclusive dining experience
· Unlimited fine wine, beer and soft drinks 
· Unlimited sparkling wine and fresh juice with breakfast
· Sip& Sail Daily Cocktail Hour with complimentary wine, beer, spirits and soft drinks
· Tapas,sandwiches, snacks and refreshments served daily in the Main Lounge
A WORLD OF EXPLORATION
· Immersive tours in every destination
· Gentle,regular, active and late-riser tour options
· Bike tours and hikes
· Special Interest Tours
· Knowledgeable guides
· Personal headset for easy exploration
· Airport transfers with purchase of air from AmaWaterways
Land Program
· 2 nights hotel in Prague at the Old Town Hilton (or similar), including city tour and daily breakfast
· Transfer from Prague to the ship in Nuremberg with Christmas Market visit enroute
This fully escorted exclusive package is filling fast – Don't miss out! Contact us today to reserve your stateroom!